Hello & welcome to Papercut_art!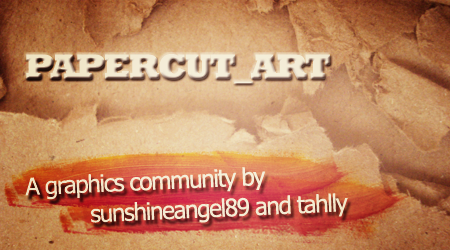 This is a community for graphics in various forms, may it be icons, banners, textures, toturials or something entirely different.

sunshineangel89 and
tahlly will post their fan art here.This community is Members only, means the entries will be open for you guys for 2 or 3 days. After that, they can´t be seen by anybody outside
papercut_art.
You are free to watch/join this community for future updates, though.
Of course we have some rules:

*Do not take anything posted here and claim it as your own or hotlink it*
*Please comment and credit if you use any graphics made by us*
*Do NOT insult the artists/mods. If you leave comments, it's nice to get criticism but don't be mean*
*And please don't edit any of the art unless it says you can*

Want posting access here? - Be patient. This community might be open for application soon. (: